Welcome back to Oreganet! It's December 2021. Happy Holidays! Happy New Year!
And what a year! The first half of the year went by in a blur, as far as work is concerned. I was buried in transition work with our spin out from Intel Corporation in the fall of 2020. It took several months to finish migrating data and set up new systems for the new company. I worked on the product lifecycle management and ecology databases, along with a lot of miscellaneous odds and ends. As our transition work wound down, then engineering work ramped up, along with the hiring. It has been very rewarding to be part of making our company grow and flourish again.
On the home front, we finally finished our kitchen renovation, as you can see. Romi approves. The house is really starting to look pretty good. It took quite a long time to get the refrigerator because of all the crazy supply chain delays, but it did finally arrive. We also had the downstairs back half painted, so it looks a lot better.
I also painted Denali's room this summer, so one more bedroom is done (well, except for the closet doors, still in progress). We're planning to work on the kid's hall bath next.
In the early summer we went to the mountains in North Carolina for our vacation. We were supposed to go on our Alaskan cruise this year, but just like last year, it was canceled again due to COVID. Maybe next year we'll have better luck. So we went to the mountains again. It was much better than last year when many attractions were closed; this year, North Carolina was basically back to normal without many COVID rules, so there was lots to do, no masks required. We visited two Cooter's museum/shops; stopped in at Wheels Through Time, a cool car/bike museum in Maggie Valley; drove windy mountain backroads; saw a country western dinner show at Dolly Parton's Stampede in Pigeon Forge, Tennessee; visited Alcatraz East, a crime museum in Pigeon Forge that was actually quite good and not just a tourist trap. This year's visit to Grandfather Mountain was much warmer and drier than last year (last year it was pelting rain with measured winds up to 60mph!). 
We also stopped in to see Mount Mitchell, only to pick up a screw in our tire from the construction at the top. With a rapid failing tire, we had to stop at the first pulloff when we reached the Blue Ridge Parkway, out in the middle of nowhere. The Macan has a spare tire and compressor, but when we went to fill up the spare and jack up the car, we had problems. First, being stressed out by the flat, we forgot to turn off the auto-adjust suspension, so the car started lowering itself as we were jacking it up, causing an ugly scratch (thankfully, that was easily repaired by the autobody shop after we came home). Then when we were trying to fill the spare tire (which stores flat), the compressor tip broke, so we couldn't fill the spare. We called AAA (with a dubious signal; cell coverage in the mountains is dodgy), and they said a tow truck could be there in two hours. As we waited, a good samaritan pulled off and asked if we needed help. He offered us his hand bike pump, and Wayne started pumping, and pumping, and pumping. This went on for twenty minutes in the baking sun. Then another good samaritan pulled in, and he had a fancy battery operated compressor, and turned the tedious job of hand-filling the spare into an easy five minute fix. We are so grateful for these good samaritans! I called AAA back and canceled the two truck, and we were on our way, at a much reduced spare tire speed. Wayne managed to get the ruined tire replaced by the local Asheville dealer the next day - their last tire in stock (did we mention the supply chain issues?). So it all worked out okay.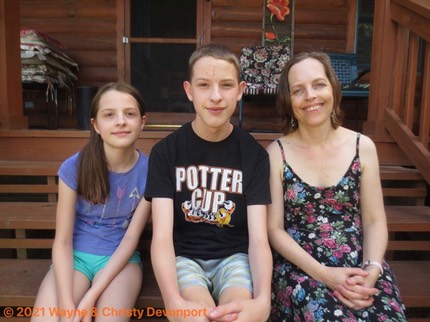 Our sightseeing resumed: we visited Floyd Garrett's Muscle Car Museum and Tennessee Museum of Aviation in Sevierville, Tennessee, as well as the Botanical Gardens in Asheville. And of course we ate lots of good North Carolina barbecue and enjoyed the quite scenery at our cabin. If you set aside the flat tire day, we had a really relaxing vacation. Check out all of our pictures here.
The rest of the summer and fall went by in a blur. Work resumed. Wayne was very busy with his new role at Axalta and went to Michigan for business several times, but no where else. Most business travel was still blocked by COVID.
We had a fun time at the 4th of July parade in Newtown Square, plus we joined a swim club this summer. The kids were too old to go to camp so we needed some other outdoor activities to get them off devices. School was back to normal this fall, thank goodness! Here is the first day back. During September we found a fun activity at a little airport in New Jersey, a fly in, where you could see airplanes up close. In late October we scrambled to take our annual portraits so we could make our family calendars. We finished out the year with a last visit to Longwood Gardens.
Happy new year! Here's to a happy and healthy 2022!
- Christy Devonport